MEN OF A CERTAIN AGE (2009 - 2011)
(noch keine deutsche Ausstrahlung!)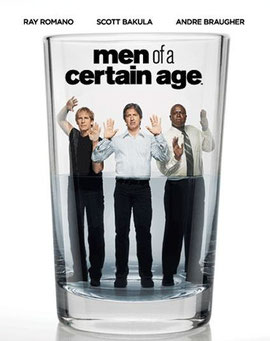 In dieser Dramedy - Serie geht es um das Leben  von 3 Männern, die die das 50ste Lebensjahr hintersich gelassen haben und langsam in die Midlife -Crisis kommen und ihr Leben kritisch betrachten: Joe Tranelli (Ray Romano), Inhaber eines Geschäftes mit Bademoden und Kinderspielzeug, ist geschieden und hat 2 kleine Kinder. Joe ist ein Zocker, der durch Spielschulden seine Ehe an den Baum gefahren hat und nun langsam versucht, sich davon zu lösen, und mit einer alten Leidenschaft, dem Golfspielen wieder anfängt. Zudem versucht er krampfhaft, eine neue Lebensgefährtin zu suchen. Der Automobilverkäufer Owen Thoreau jr. (Andre Braugher) ist ein solider Familienvater, der in der Firma seines Vaters mittelmäßig erfolgreich Autos verkauft, in der Hoffnung, das Geschäft zu übernehmen, sobald sein alter Herr endlich in den Ruhestand geht. Doch dieser hat für seinen Sohn nicht viel übrig und macht ihm damit das Leben schwer. Im Fortverlauf gelingt es Owen, endlich seinen Mann zu stehen, und seinen alten Herren die Meinung zu sagen und übernimmt schliesslich das Geschäft. Der dritte im Bunde in der erfolglose Schauspieler und Lebenskünstler Terry Elliott (Scott Bakula), der das Leben in vollen Zügen geniesst und sich gerne mit Frauen umgibt, die gerademal halb so alt sind wie er. Als er im Fortverlauf seine Schauspielkarriere mehr oder weniger an den Nagel hängt, heuert er bei Owen als Autoverkäufer an. Diese drei Freunde kennen sich schon ihr ganzes Leben, seitdem sie kleine Kinder waren. Sie treffen sich immer und tauschen sich aus und überlegen, wie man die Lebensqualität für Männer ihres Alters verbessern kann.
Die Serie umfasst insgesamt 2 Staffeln. Wegen rückgehender Quoten wurde die Serie leider nach der 2. Staffel eingestellt.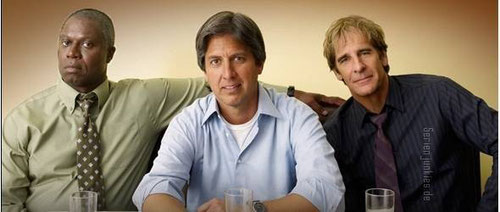 Season 1: 2009–2010
Series
#
Season
#
Title
Directed by
Written by
Original air date
Viewers
(in millions)
1
1
"Pilot"
Scott Winant
Ray Romano & Mike Royce
December 7, 2009 (

2009-12-07

)
5.4
In the series premiere, we are introduced to Joe, Owen and Terry, who have been friends for years. Joe, who once had a dream of becoming a professional golfer, is now a party-store owner who is dealing with his recent separation from his wife. Owen works for his father as an auto-salesman in order to make ends meet and Terry is a part-time actor who is trying to recapture his past glory. The three of them support each other through their mid-life challenges during daily lunch meetings at a local diner and hikes in the hills of Los Angeles. 
2
2
"Let It Go"
Scott Winant
Ray Romano & Mike Royce
December 14, 2009 (

2009-12-14

)
4.4
Joe, who has been living in a hotel room since separating from his wife, begins to think about renting an apartment. Owen uses an old dealership model as his new car, much to his wife's dismay and Terry sets out to find the rude driver who almost ran him down. 
3
3
"Mind's Eye"
Phil Traill
Rick Muirragui
December 21, 2009 (

2009-12-21

)
3.7
Joe makes an attempt to bond with his son by teaching him the basics of golf, and winds up hearing about his son's personal issues. Meanwhile, Terry and an actress friend team up to pose as a married couple at an open-house, but Terry takes his role too seriously and Owen attempts to get his sales figures up but is stifled by a moral dilemma. 
4
4
"The New Guy"
Ed Bianchi
Bridget Bedard
December 28, 2009 (

2009-12-28

)
3.1
Terry and Owen intend to go to the local school fund-raiser auction, as they do every year, but discover that for the first time, Joe isn't planning on going; this is because his ex-wife Sonia will be there with her new boyfriend Harold. Instead, Joe plans to stay home. However, he soon finds himself bored out of his mind, and ends up spending a wild night out with his bookie, Manfro. Meanwhile, at the auction, Melissa and Owen find themselves seated at the same table as Sonia and Harold, who accidentally let slip that they had started dating nearly a full year before Joe and Sonia had split up. Owen is furious and is unable to "make nice" as Melissa wants, and is shocked by Terry's laid-back attitude about the news that Sonia had been cheating on their friend. Terry, who is there as auctioneer, finds himself a hit with the ladies, but is at first unable to fully work his charms, thanks to unintended interference by a friendly but boorish coworker. Terry eventually manages to arrange a rendezvous with a former lover, despite the fact that she is engaged. However, thoughts about the implications of Sonia cheating on Joe cause Terry to change his mind at the last minute, and he decides to skip the rendezvous. 
5
5
"Powerless"
David Paymer
Mark Stegemann
January 4, 2010 (

2010-01-04

)
3.1
Owen and his family must stay at his demanding father's house when their own home loses power. Adding to the headache: Construction on Owen's house halts because of a crooked contractor. Meanwhile, Joe suspects that his daughter is being stalked by her ex-flame. 
6
6
"Go with the Flow"
Millicent Shelton
Jack Orman
January 11, 2010 (

2010-01-11

)
2.9
Joe recounts the tale of the first date he's gone on in 20 years with Dory (Sarah Clarke). The misadventures include a black eye, a potentially embarrassing encounter with one of his employees, an unfortunate piece of advice from Terry, an anxious Little Leaguer and a poorly placed lamp. 
7
7
"Father's Fraternity"
Ed Bianchi
Warren Hutcherson
January 25, 2010 (

2010-01-25

)
2.3
Daddy issues plague both Joe and Owen, as Joe pays a visit to his curmudgeonly retired father (Robert Loggia) and Owen's dad produces an auto-dealership commercial that suggests Owen isn't his son—but Owen's coworker is. Meanwhile, Terry is applying to volunteer as a Big Brother. 
8
8
"You Gonna Do That the Rest of Your Life?"
David Boyd
Lew Schneider
February 1, 2010 (

2010-02-01

)
2.3
Joe's bookie finds out that Joe is an excellent golfer and exploits his skills in a scam. Meanwhile, Owen's weight gain is worrying his family and Terry moves into a new apartment building and becomes the apartment manager. 
9
9
"How to Be an All-Star"
Phil Traill
Bridget Bedard
February 15, 2010 (

2010-02-15

)
2.1
When his son's anxiety level rises because of the poor family situation, Joe decides that it is time to buy a house. In order to get some of the money, he places a $25,000 bet on a basketball game. 
10
10
"Back in the S#!t"
David Boyd
Lew Schneider & Mark Stegemann (Story)
Ray Romano & Mike Royce (Teleplay)
February 23, 2010 (

2010-02-23

)
2.6
Season Finale. Feeling guilty about his rapid downward spiral, which includes out of control gambling and having to cut back on staff at his store, Joe decides to stop gambling. Owen finds a new sense of purpose when he goes to work for a rival auto dealership following his father's decision to turn management over to Marcus. And Terry's life spins out of control when his gig on a movie results in disasters at the apartment complex he manages.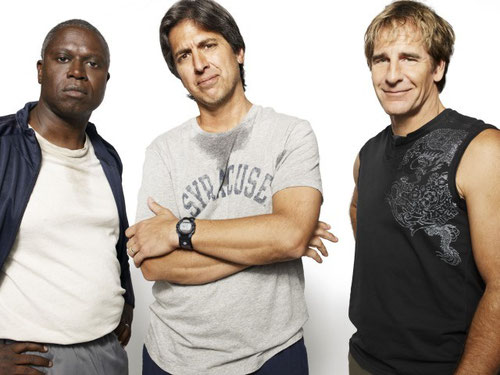 Season 2: 2010–2011
The second season will consist of 12 episodes. The show is currently on hiatus and will return with 6 more episodes beginning on June 1, 2011.[3]
Series
#
Season
#
Title
Directed by
Written by
Original air date
Viewers
(in millions)
11
1
"If I Could, I Surely Would"
Ed Bianchi
Ray Romano & Mike Royce
December 6, 2010 (

2010-12-06

)
2.4
Joe is determined to get himself back in good shape on the golf course, but having to get up at the crack of dawn to practice is starting to wear on him. Plus, his new house just happens to be in the same neighborhood as his former bookie. Owen is now manager of his father's auto dealership, but his decision to hire Terry is starting to look like a bad move. It turns out Terry's acting skills aren't helping him succeed in selling any cars. He's also not exactly cut out for a 9-to-5 job. 
12
2
"Same as the Old Boss"
Jennifer Getzinger
Mark Stegemann
December 13, 2010 (

2010-12-13

)
2.2
Joe attempts to stick to a schedule that will allow him time to practice his golf game, but it's a fruitless endeavor. Owen tries to assert some authority over the car dealership's service department, but being the manager is starting to have a negative impact on his life, especially his marriage. Terry becomes the butt of his coworker's pranks when they discover a video of one of his old commercials online. 
13
3
"Cold Calls"
Ed Bianchi
Itamar Moses
December 20, 2010 (

2010-12-20

)
2.3
Joe finds himself dating two women at the same time, but he's not quite sure how to handle the situation. Terry agrees to a bet with a fellow car salesman over who can unload the most cars by the end of the day. Owen pushes his father to stop undermining his authority at the dealership. 
14
4
"The Bad Guy"
Millicent Shelton
Siân Heder
December 27, 2010 (

2010-12-27

)
2.3
In the midst of finalizing his divorce, Joe makes a surprising discovery about his teenage daughter. Owen goes to a car convention, where he gets some important and unexpected news from his father. And Terry is approached about a television commercial he did many years ago. Penelope Ann Miller guest-stars. 
15
5
"And Then the Bill Comes"
David Boyd
Bridget Bedard
January 3, 2011 (

2011-01-03

)
2.1
Joe feels conflicted after finding out some news about his former bookie, Manfro (guest star Jon Manfrellotti). Terry begins to embrace the benefits of having a 9-to-5 job. Owen takes a huge step towards resolving the tension between sales and service. 
16
6
"Let the Sun Shine In"
David Boyd
Tucker Cawley
January 10, 2011 (

2011-01-10

)
3.3
When Terry announces he's going to get a colonoscopy for his 50th birthday, the guys all decide to get one, making a weekend out of it in Palm Springs. While there, Joe deals with his "mind" bets, Terry can't stop thinking about Erin and Owen opens up about his dad and the dealership. 
17
7
"TBA"
TBA
TBA
June 1, 2011 (

2011-06-01

)

[

4

]

TBA
TBA 
17
7
"The Great Escape"
Millicent Shelton
Lew Schneider
June 1, 2011
1.8
Joe decides to spend some time with his former bookie Manfro (guest star Jon Manfrellotti), who is preparing to undergo a difficult medical treatment. Terry and Erin take a bold new step in their relationship. And Owen receives an intriguing offer from a rival dealership. Penelope Ann Miller also guest-stars. 
18
8
"The Pickup"
Phil Traill
Ken Blankstein
June 8, 2011
1.3
Joe does a favor for Manfro (guest star Jon Manfrellotti) that could have a lasting effect. Terry struggles to deal with the latest development in his love life. And Owen tries to keep things on the lot from getting out of control as a feud develops between his top salesmen. Penelope Ann Miller also guest stars. 
19
9
"A League of Their Owen"
David Boyd
Tucker Cawley & Itamar Moses
June 15, 2011
1.4
Owen is handed the reins to the Thoreau Chevrolet softball team right before the season opener against a rival dealership. Joe's dad (guest star Robert Loggia) comes to visit and brings along his new girlfriend to meet the family. And Terry's relationship troubles come to a head. Patrick Gallagher and Alanna Ubach also guest-star. 
20
10
"Can't Let That Slide"
Mike Royce
Siân Heder & Lew Schneider
June 22, 2011
1.5
Joe's friendship with Manfro becomes more complicated. (Guest star Jon Manfrellotti). Owen observes the sales guys in action after installing hidden cameras at the dealership. And Terry's date night goes awry. Alanna Ubach also guest-stars. 
21
11
"Whatever Gets You Through the Night"
Geoff Haley
Bridget Bedard & Mike Royce
June 29, 2011
1.5
Owen and Terry team up on a new commercial for the dealership. Joe tries to get his store and his life back on track but old relationships complicate matters. Jon Manfrellotti and Sarah Clarke guest-star. 
22
12
"Hold Your Finish"
David Boyd
Bridget Bedard & Mark Stegemann
July 6, 2011
1.7
Joe's big day – the senior tour pre-qualifier – has finally arrived. Terry realizes a new dream and passion. And Owen discusses the future of the auto dealership with his father. 
Quelle des Episodenführers:
wikipedia.org
Hier kommen mehrere von Scott aus / zu der Serie. Klickt einfach das Bild eurer Wahl an, dann seht ihr die volle Größe